Juliet's Balcony Marriage Proposal
When Sergio asked me to help him propose to Sonia they were already in Italy on their summer vacations. He desired to propose to her in Verona, that they would reach in a few days. It wasn't easy at all to discuss with Sergio all the details and arrangements. In fact, they were all the time together, so we had to email each other at nighttime when she was sleeping. I interviewed him because I wanted to know some details of their love story. I also needed some details of Sonia's personality, as well as her favourite things. So I came to know that Sonia was being fascinated by the story of Romeo and Juliet since she was a young girl and that Sergio had a lot of sweet things to say to her while proposing.
The theme of the proposal was all about Juliet and her famous balcony!
Therefore the theme of the proposal had to be all about Juliet and her famous balcony! I also recommended putting into words the sweet things he wanted to say to Sonia when proposing. Consequently, I suggested that he write a letter addressed to Juliet, where he would talk about his love for Sonia. I would put it at the feet of Juliet statue in the courtyard of Juliet's house, where Sonia would find it during the proposal event. And again Sergio had to write the letter at nighttime when Sonia was sleeping! Isn't it romantic enough?
"There is no world without Verona walls, but purgatory, torture, hell itself. Hence banished is banish'd from the world and world's exile is death…"
SHAKESPEARE "Romeo and Juliet"
On the proposal day I met them early in the afternoon. As agreed, I introduced myself as their guide  for a private visit to the city, so that we could get to know each other. Later on, they had dinner at a restaurant on the hill San Pietro, where they enjoyed the sunset and the beautiful view of the city. Meanwhile, I was setting up after-dinner drinks and desserts in the Juliet house courtyard. I had also hired two musicians who would play music selected by Sergio. 
After dinner, Sonia and Sergio were supposed to walk down the hill, alongside picturesque and very romantic spots, and to pass over the river Adige on the two-thousand-year-old Roman bridge heading to Juliet's house.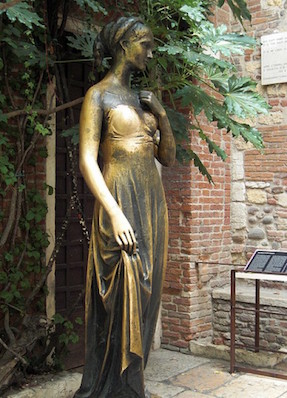 …a storm broke out that night when they were about to walk down the hill…
Unfortunately, after more than one month of sunny weather a storm broke out that night, and it started raining hard. It was precisely when Sonia and Sergio were about to walk down the hill. By that time, I had already arranged the set up in the middle of the courtyard, under the balcony and in front of Juliet statue.
So I needed to move everything out of the rain to the entry gallery, including the two musicians with violin and harp. I also called a taxi that would take Sergio and Sonia to Juliet's house. Furthermore, I text Sergio that I had to move Sonia's proposal ring and the letter to Juliet (that he had given to me in the afternoon) from Juliet statue's feet to the threshold of the house out of the rain. And because of the wind, there was no way to light the candles.
However, Juliet's balcony was such a fantastic location for a marriage proposal, can you imagine, Juliet's courtyard only for Sonia and Sergio? Sonia was astonished and deeply moved and of course…
Marriage Proposal Stories
Torre dei Lamberti is an 84 mt high medieval tower from the 12th cent. in the centre of Verona. Visited by many tourists during the daytime, we decided to rent it exclusively for Andrei and Anna's wedding proposal. In fact Andrei was determined to propose to…
read more
SHARE THIS POST WITH YOUR FRIENDS